Digitization has become the central factor in the competitiveness of companies. Digitization refers to the processing of documents and information with the help of IT. However, the digital transformation goes one step further. Documents are not only digitized, but the underlying workflows are optimized, accelerated and new processes are created. This leads to a new sustainable improvement in the competitiveness of the entire organization.
In its latest version, Imixs Office Workflow offers the right tools to organize this digital transformation within an organization. In the following this will be demonstrated using a concrete example – the internal purchasing.
Digitized Purchasing
Purchasing or the internal procurement management is about optimizing the procurement of materials or services via a digital business process. The workflow of such a process looks different in every company. It may contain an additional approval, an investment review or an approval procedure according to the 4-eye principle. In Imixs Office Workflow, this workflow is modeled using the BPMN 2.0 standard.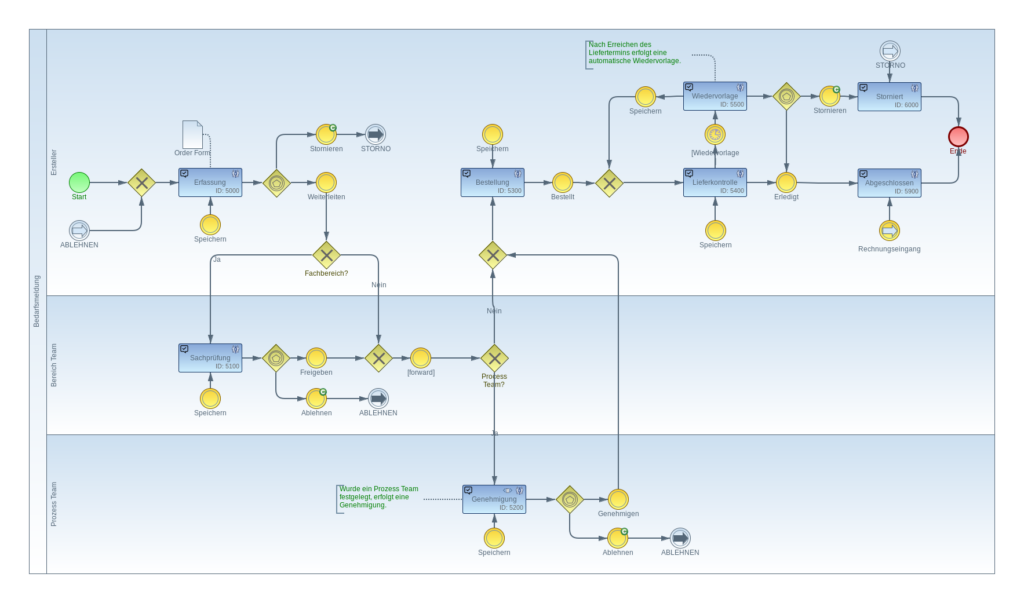 The workflow model defines the individual steps and responsible actors and also takes into account business rules and thus compliance within the entire process flow. The structure of a input form and the checking of input data are controlled via the model as well:
By defining work instructions, employees receive assistance in creating and processing a purchase request. All text blocks as well as the structure of the input form can be adapted at any time via the BPMN model.
Approval According to the 4-Eye Principle
Imixs-Office-Workflow monitors each order process and, depending on the individual context, initiates an approval workflow – for example, according to the 4-eye principle. The distribution of tasks within Imixs Office Workflow takes place via an organizational matrix defining which teams in the company are responsible for each process step:

Due to the individual definition of business rules – e.g the approval process will only be started above a certain amount limit – these rules make it possible to process documents faster and skip unnecessary work. If, for example, a task is rejected, this must be justified by a comment. As a result, employees receive the necessary information directly and do not have to ask internally or send further e-mails that would mean a break in the process flow.
Reminder, Escalation and Controlling
By defining so-called scheduled events, a business process can be monitored automatically. For example, the employee receives a reminder notification if the delivery deadline is exceeded and can escalate the process if necessary. These rules are also defined via the process model and thus prevent processes from being left behind or forgotten. In this way Imixs Office Workflow acts as an attentive digital employee.
The Digital Transformation
But how can such a business processes support a digital transformation? This is where the advanced features of Imixs Office Workflow come into play. In addition to the processing and tracking of digital business processes, these can be extended beyond the process boundaries. Today, for example, purchase orders are often processed via online platforms. These require a complete different process flow and offer also new possibilities to optimize the procurement process.
Also an intelligent linking of processes with each other can play a decisive role here. Similar to a procurement management, an incoming invoice check may also need an approval according to a 4-eye principle. But if a new invoice can be linked to an already checked and approved ordering process, a second approval can become superfluous. Imixs Office Workflow detects such situations and thus accelerates the workflow while increasing transparency.
Artificial Intelligence and Invoice Processing
In addition to the process control, Imixs Office Workflow also offers the possibility to import documents from different sources. For example, invoices can be scanned and transferred directly from the Office Scanner into an invoice workflow. Imixs Office Workflow automatically runs a text recognition (OCR) and passes the document to a machine learning algorithm extracting the contents of the invoice automatically. The employee only need to check the data and can forward it directly to the next responsible person.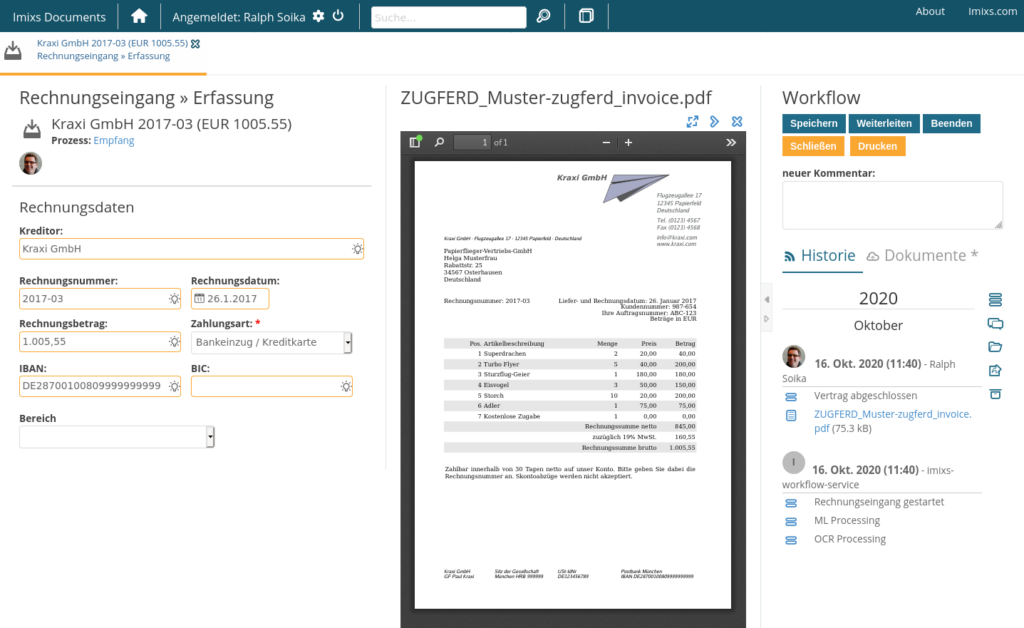 The machine learning integration of Imixs Office Workflow can be extended to any documents and business processes within the company. The new module supports a continuous learning strategy and constantly optimizes itself. In this way Imixs Office Workflow constantly learns and thus improves the processing of documents and data.
Through the ability of custom process design, the linking of documents with each other and to improved data recognition through AI, digital processes can be completely redesigned within the company. This means that not only documents are digitized, but the digital transformation in the company can actually be started. The business processes can sometimes become quite complex and require clear structuring and permanent optimization.
Our Open Source Strategy
It becomes clear, that this kind of digital transformation cannot take place without a clear vision and a deep understanding of technical and organizational processes. In order to close the gap between your visions and our technical know-how, we actively support you through our open source strategy. Imixs Office Workflow is 100% open source. This means that there are no license fees. Through a so-called subscription model, we actively support you in implementing your digitization strategy. This is a new form of using software. We help you to build professional solutions faster and benefit of an open concept for business process management.
Get in touch with us and we will be happy to support your digitization strategy.