With the latest version of the Business Process Management Solution Imixs Office Workflow, the Imixs Software Solutions GmbH presents a new archive solution that can be used to securely digitize large volumes of data over long periods of time. The technology is based on the open source database platform Apache Cassandra. Apache Cassandra is a big data platform designed for scalability and high availability without compromising performance. Proven fault tolerance makes it the perfect platform for mission-critical data. Apache Cassandra is used by major well-known digital companies such as eBay, GitHub, Instagram or Netflix. But also organizations like CERN use this high-performance and fault-tolerant technology to manage their data.
By integrating this storage technology into Imixs BPM Solution, business data can be stored in a long-term archive. At the same time, the solution enables companies to analyze their business data in real-time. This opens up new possibilities for combining digitization with individual business goals. Both, the Imixs BPM Solution and the Big Data Platform Cassandra are Open Source and free of license fees. The solution can be used on standard hardware in-house as also on cloud infrastructures.
Digitizing Business Data
Imixs-Office-Workflow offers a brand new concept how business data is digitized. Unlike standard archive solutions, documents are not only stored, but automatically linked to the underlying business processes during digitization. As a result, digitization directly triggers a value creation process in the company. This not only creates better information, but at the same time improves working processes in a sustainable way. Competitive advantages result from lower costs, shorter reaction times and higher process quality.
Using a model-driven approach, Imixs-Office-Workflow enables a wide variety of business processes to be implemented in a short time. Even complex business processes can be represented by individual business rules according to individual compliance guidelines. This is possible by adapting the BPMN 2.0 standard, which allows the graphic modeling of business processes.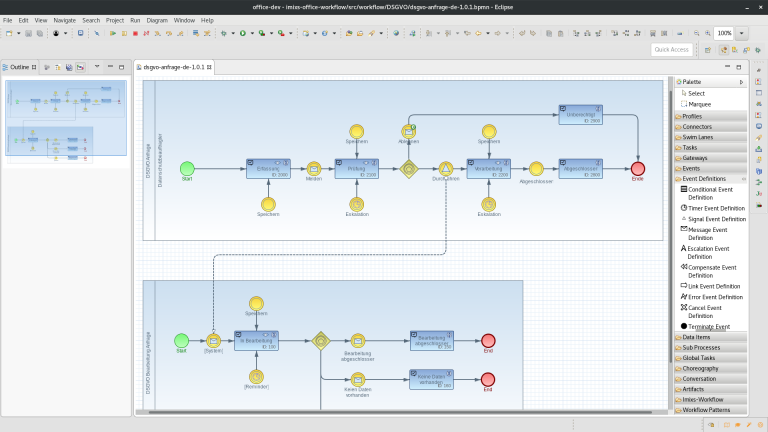 Typical business processes that can be implemented with Imixs-Office-Workflow include Procurement Management, Controlling- and Quality Processes, as also business processes in Human Resources or Production Operations. The Imixs Software Solutions GmbH offers direct support for the successful digitization of business processes in small and medium-sized companies. In addition the Imixs GmbH also develops solutions for large companies such as BMW.
With a Service-Subscription, companies benefit from the open source platform and get professional support at the same time. Get Contact!